The passion that created a career
Posted: May 17, 2019
It was passion that drew Personal Best Karate owner and instructor Tracy Rappold to her first job: her love of animals. It's why she chose her job as a veterinarian technician – and she loved helping those animals in need. This medicine field brought her to become a cardiac research lab technician at Massachusetts General Hospital for 11 years.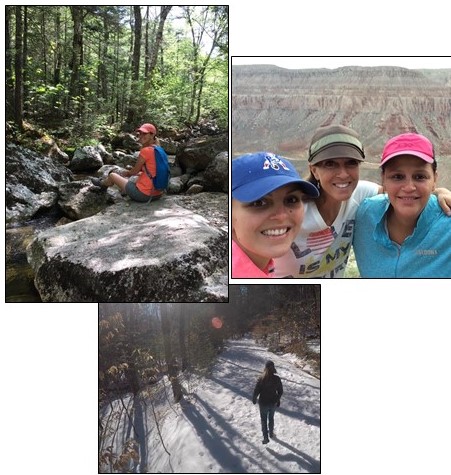 But it was the passion at her next job that created her life. After first taking lessons at Personal Best Karate as an adult student, she was drawn to the positivity and the empowerment she helped create from the children's classes and knew that's where she belonged.
"I saw what the martial arts classes did for the young adults, how it helped bring positive role models into their lives, how they became more focused students," explained Tracy. "I knew that I wanted to be a part of that."
Tracy worked with Christopher Rappold, the founder of Personal Best, and created what is now called the Ranger program for children aged 4 -6 years old. Teaching skills such as confidence, self-discipline and focus to name a few, she found ways to integrate the needs of the children into a fun class, all while empowering the students as well.
"Children need to have people always looking for the good in them. Children behave differently and become much different people if they have adults and instructors who are being positive around them," said Tracy. "Adults need to respect children as well and that doesn't always happen." Working with the young children at Personal Best allowed Tracy to create programming based on the children's needs as well as helping them develop into strong, confident students.
Being brought up in the martial arts family has been a benefit for her own daughters, Tracy said. "They have always been around positive people at PBK. The teenagers who train at PBK have positive mindsets, and my girls have developed great friendships with them. They are family," she smiled.
During this time, Tracy also became focused on her own nutrition and exercise regiment. She began creating kickboxing bootcamps and found them to be very popular amongst the students. After creating the curriculum and adding in more classes, Personal Best Kickboxing was born. "People loved the workouts, and they especially loved the camaraderie – going to kickboxing became a night out with their friends," said Tracy. "They love rooting each other on as well as competing in some of our programs – like the 90 Day Fitness."
Over time Tracy become more and more passionate about the nutritional side of healthy living, partially because of her own low energy and eating-on-the-go lifestyle. "[Nutritional health coach] Dr. Marc Mincolla inspired me to learn more about nutrition, and opened my eyes to the political world of the food industry," she stated. "And the more I learned the more I wanted to share with everyone. People struggling to get healthy does not always mean they don't have self-discipline – you have to figure out the balance of what you're eating as well." She went on to get her certificate from the Institute for Integrative Nutrition and continues to educate herself on ways to help her students be healthier.
Tracy then noticed a new wave of students – students who would come to the kickboxing class after not being very active and feel overwhelmed. "Mostly these students had bad nutrition and felt badly about themselves. They would feel intimidated and discouraged," she explained. "I realized that they needed a type of program that would help them develop better nutrition as well as help them gain better health goals."
What came from this was the Whole Body Revolution program that began in 2016 at the Norton Personal Best Karate. An 8-week program, it consists of strength training with some kickboxing along with health coaching and nutritional meal plans. Students have found success because they are able to do the program and see results while remaining positive in their journey, said Tracy. "I am so proud of the men and women in this program because they are setting goals to become healthier and enjoying while they are doing it," she smiled.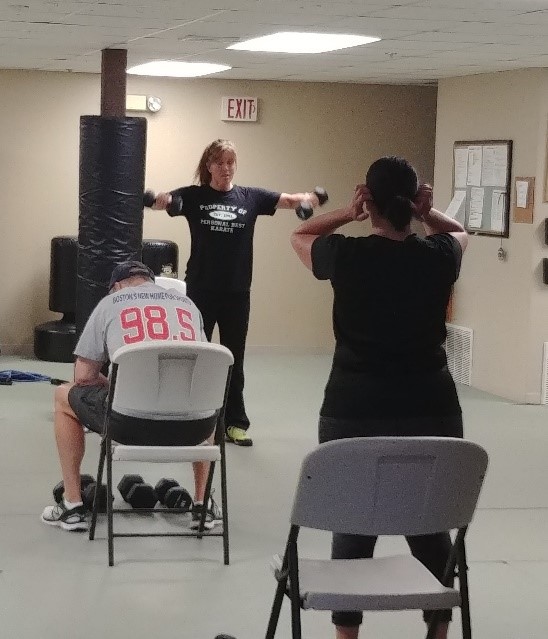 Another part of Whole Body and the kickboxing programs is reminding students to be mindful in their lives. "I am always checking in on [student's] meal plans and energy levels, but I am also working with them on their motivation," she offered. "Being present in their lives and making choices good for their positive mindset are also things I work with them on. It's something we all need to make sure we are focused on."
A mother of two daughters, one just graduating high school and the other just entering high school, Tracy said she has the same struggles everyone else does. "It's a struggle balancing the time with family, work and personal time. You have to always be conscious of where you're spending the time and finding the right balance," she explained. "You have to prioritize."
Keeping herself balanced is tricky at times, but she does manage to carve out moments where she can enjoy some of her passions. An avid outdoorswoman, you will find her kayaking, hiking and going on walks with her dog, Bruno. One of her biggest accomplishments was a four-day hike from the north rim to the south rim of the Grand Canyon two years ago. Being outside, she says, "feeds my soul."
"I have a huge attachment to nature. I can shut my mind off and just enjoy in what is happening around me in the present. I am at peace," she resolved.
Tracy said this is not too far from what she gets from martial arts as well. "When I'm on a treadmill, my mind may go to other things – what to fix for dinner, what I have to do at work," she described. "But martial arts forces you to be in the moment – you really have to focus on the technique. There is not a lot of exercise that you need to be in the moment. It's why I am passionate about it."
If you would like more information on Whole Body Health Revolution or any of the fitness programs, please email Tracy at trappold@personalbestkarate.com