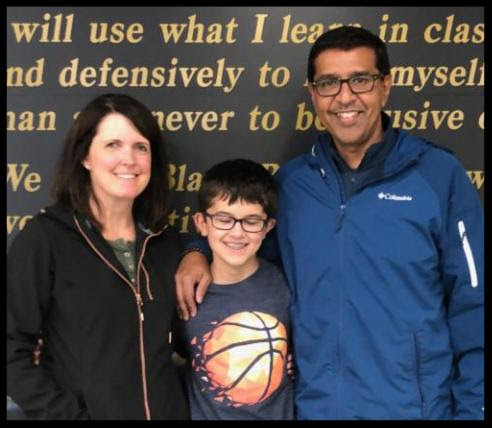 Working together completes PBK experience
Posted: May 25, 2019
It's a family affair at the Personal Best Karate in Medfield with the Manchand family. Twelve-year-old Noah has been coming to Personal Best since first grade and received his Black Belt last year, six months before his father, Raoul, received his Black Belt. Mother Christine is a kickboxer and it was a bet she had with Raoul that got him on the mat.
"I lost some bet and was supposed to go to kickboxing but instead I took karate," Raoul explained. "When I started, I felt uncoordinated - but it wasn't too long before I felt comfortable." The camaraderie at the school and everyone working together helped make the transition from just taking class to someone training for their Black Belt possible, he said.
Their son Noah started at Personal Bet when he was six-years-old for different reasons.
"We started Noah at PBK because it was a way he could be work with other kids without being competitive in an organized team. He learned to be a leader early on, and he continued to be a great learner," said Noah's mom, Christine. "It was also a confidence builder and he knew he could accomplish things when he worked for them."
Raoul echoed Christine's sentiment. "Everything Noah ends up trying and doing is based on him and actually DOING the work- no one is giving it to you," he emphasized. "You have to practice - it's an accomplishment."
Noah, who loves to cook, loves "all of karate", he said. Training Cycle was hard, but he's gearing up and working towards his Second Degree - only one more chevron to go.
Having Noah live by the monthly Pillar words is also instrumental in his maturity. "Mr. Perez and Ms. McGrath (at PBK Medfield) give him -and us- the motivation to excel and live by them," said Raoul.
Rolando Perez, who runs the PBK Medfield location, said the Manchands are consistent in their training and work diligently towards their goals. "They are strong leaders on and off the mat, and believe in working together to accomplish what their objectives are," said Perez. "And you can see that in class in how they bring people together."
It's being a part of that PBK family that the Manchands love."One of the best parts about Personal Best is the parents we meet and the adult students in class. No one is competitive, everyone is treated with respect, there's good camaraderie, no one is negative," explained Raoul. "It's a family environment in class."