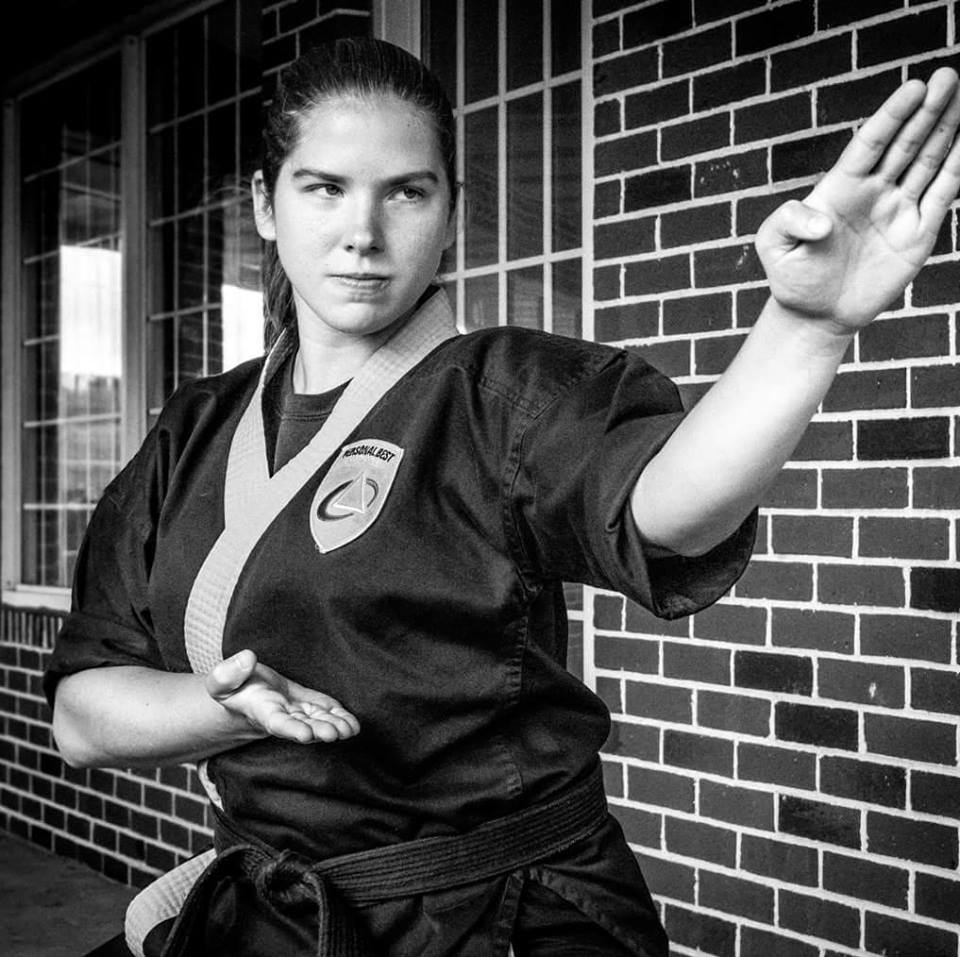 This instructor knows gratitude
Posted: May 25, 2019
Stephanie McGrath has held many roles at Personal Best Karate as an instructor these past 20 years, but her most important teaching role for the students came from what she learned off the mat.
McGrath's Personal Best story started before elementary school. She joined Personal Best Karate in Foxborough when she was three-years-old – her older brother had joined at five and she had tagged along. She took classes for a few years, then needed to stop as her family's personal life hit some speed bumps.
McGrath, who has three brothers, experienced some tough times growing up. For a while, her family was homeless, bouncing back and forth living at friends' houses, camp grounds and community housing. Although she was young, she remembers the hard times they were facing. Luckily, they were gifted a trailer and were settled for a little while. Then in 2004 when McGrath was 10, Habitat for Humanity built a house for her family in Norton.
"It was obviously life-changing for [my family]," McGrath said. McGrath knows this hospitality and charity is what helped her family in creating a lifetime journey of gratitude. "We were always mindful of giving back, as we knew how people helping us changed our lives," she said, noting that while their Habitat house was being built, the McGraths would help alongside, making sandwiches for the workers and doing what they could.
Finally settled in their new home, life began again for the family. One part that revisited was the karate bug in McGrath - although it hadn't really left her from when she had trained five years earlier. "I watched a lot of action shows – Beetle Wars, Power Rangers and Transformers – and I just loved it all," she remembered.
"I wanted to go back to karate, so that spring I did the after-school program at Foxborough Regional Charter School. And then I just never left… they were stuck with me," she joked. "[My younger brother] Stanley also joined PBK and we've been involved since then."
McGrath, who holds a 2nd Degree Black Belt, went through the ranks at Personal Best in Foxborough, and worked as STORM/SWAT and Assistant Instructor in Foxborough and Norton before settling in as Head Instructor at Personal Best Karate in Medfield in 2016. She has had many mentors throughout her karate journey, but one particular instructor is responsible for McGrath's turn towards teaching.
"Master Tracy Rappold is the reason why I wanted to be a karate instructor," revealed McGrath about her then-Ranger instructor. "From when I was three-years-old in the Ranger program, I told my mom then that I wanted to do what Miss Tracy did. And today, I still love karate and being around the kids."
Medfield school owner Rolando Perez said McGrath's dedication to Personal Best really spoke to him. "Stephanie has been involved with Personal Best for so long – she knows what we stand for and how dedicated we are to the students and she feels the same way," he said proudly. "We are lucky to have her at the Medfield Personal Best."
McGrath said she enjoys working with kids and feels our STAR program is what the students really need to learn. "As I got older I would see this lack of respect with high school kids. I thought I needed to help them learn how to respect themselves and others," she explained, mentioning that working with the young adult students really speak to her. "Teaching the young adult age group is one of my favorites because they are very impressionable. I want to be a good mentor – honest and fun with the students, but also that voice of reason."
Teaching the moves students need to know for self-defense is what also drives McGrath. "The character development side of teaching is most important, but learning self-defense is the second most important," McGrath said. "Knowing self-defense is what gives that person confidence – mentally knowing that you can defend yourself is very powerful."
The other aspect of character education that is significant to McGrath is teaching students to respect others, a throwback to her early teaching days and observing the high school students. "Teaching students to respect others no matter what – treat the janitor the same as the CEO – is the most important lesson that students need to walk away with," affirmed McGrath.
When she's not at the karate school, you can find McGrath off-roading in her Jeep, toiling around on her motorcycle, and camping under the stars. "I'm definitely an outdoors type," she acknowledged. "But I also like sharing with people my story – about being homeless. People have this vision that if you're homeless you are a drunk living in a box in the street. That's not how it is. When I was homeless, people helped me out. When I have the opportunity to help others, I do," she said simply.
McGrath is obviously no stranger to working against challenges - even as she got older. Having hip surgery at 19-years-old and then shoulder surgery at 22, McGrath is always working towards that next goal – her goal right now is to buy a house. And for her students? "I am always reminding my students to ask themselves, 'How can I make a difference?'," she stated. "What can you do that will help others in small ways as well as bigger ways. Holding the door open, picking up trash, helping people carry things in – being charitable every day.
The charity begins at home, she says to her students. "Help out your siblings – tie their shoes, help pick up their toys. Help your parents – clean up without being asked," she explained. "These daily charitable acts help your family as well as help you."